Did you know that there are over 400 million daily users on Instagram Stories alone?
Not just Instagram, but specifically on stories! That means that it's time to start incorporating stories into your social media strategy.

Don't worry, I know you don't need remove yet another thing on your "to-do" list. I promise that using stories can (and should) be a fun way to boost your visibility and reach on Instagram while strengthening your message and engaging your followers and potential customers!

Instagram Stories also offer features that can actually help you increase your sales - especially if you have a product or service that can easily be bought online!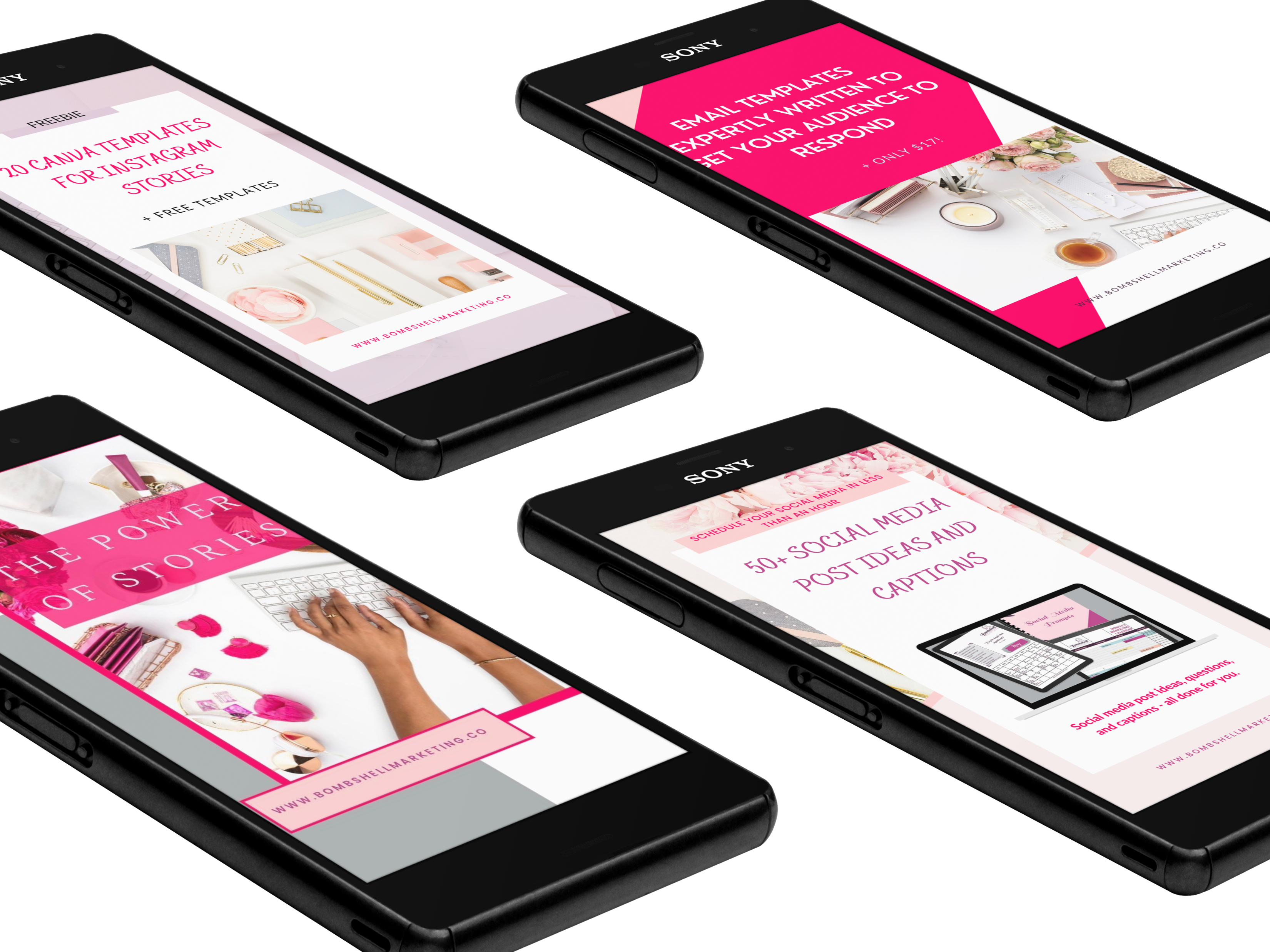 Before we get too deep into story ideas, to help you, even more, we created 20 Editable CanvaTemplates,that we are offering for free!
There's no catch, I promise, just a way to help you start creating Instagram Stories quickly and easily!
If you haven't explored Instagram Stories yet, grab your phone and take a look. Many people love Stories because they are usually candid and real. Often, the Instagram feed is where you will find perfectly curated, planned content. Meanwhile, stories are more real and "in the moment". Most Instagram users will engage with that authenticity more than the crafted posts from the feed.

8 Creative Instagram Stories Ideas
1) Do a Stories Takeover
Instagram takeover is when you allow someone who doesn't typically have access to your Instagram account to post on it for a period of time or even a whole day. Gary Vee says that there ishuge value in doing Instagram takeovers, that can last for weeks!
My favorite ways to do takeovers are to partner with a brand or company that is complementary to your own and exchange takeovers.

For example, my sister, Kortnei, owns a Pinterest Management company, and she would be a great complement to what we offer. So she could (and will :)) do a takeover for us, because she offers something our audience is looking for but doesn't compete with what we offer.

Another example of this is this Instagram Stories takeover that Beck fromLove the Revision, did with Jen of Half Painted House. Love the Revision specializes in renovations, and Half Painted House does interior design, so they are in similar fields without competing, and that makes this takeover perfect!

Your takeovers can also be employees, coworkers, your company owner, a client, or even an influencer you've hired to promote your brand.


This is a fun, unique way to humanize your brand, get some additional exposure, and provide some fun content for your audience.


2) Share How Something Is Made


Most Instagram users enjoy feeling like they are getting something exclusive—and, Stories are nearly the perfect way to give them exactly that.
Use Stories to show how something is made, whether that be your website design in progress, a recipe for your famous chicken salad, or your book that is only half-finished.

3) Share Your Work Space
Just like giving people a sneak peek at how something is made, showing them where you work can have that "exclusive content" feel. And just to relieve any worries, no, you don't have to have a perfectly matching office, that is dust-free and beautiful. Being true to yourself, while showing your "perfectly human, and okay with that side", is the best way to get interaction on Instagram Stories.
Ruby Dawn, home decor and interior decorating ideas company shares this image of a beautiful office, and asks, what does your home office look like?
4) Teach Your Followers Something New or Give Them a Special Tip

Remember when we talked about using Instagram Stories to show your followers how something is made? That's not the only thing you can teach—in fact, you can use Instagram Stories to teach your followers just about anything.

You can show them how to more effectively use your product, how to write a snippet of code, or even how to teach their dog to high-five. The options are virtually endless.

This is also a great area to explore with IGTV—particularly if you need to teach something that requires more than just 15-second snippets.
For example, entrepreneur Maya Elious, uses IGTV to provide all sorts of helpful advice (like how to boost your confidence before a big project!) to fellow entrepreneurs and business owners

5) Create a Shoppable Story (For physical products)
Instagram released its shoppable Story stickers in 2019. This allows businesses and entrepreneurs to sell their products directly on their Instagram Stories using a special sticker without requiring the user to "swipe up" and navigate away from the app.
There are some requirements to get the sticker:
You must be selling a physical product that complies with Instagram's policies
You must have a business profile on Instagram.
As of 2020, the sticker is only available in 46 countries.
6) Create a Poll

Instagram offers a poll sticker for users to put on their Stories to get a Yes/No type answer from their audience. Using it is simple, just ask your followers a question with a choice of two responses.
Polls are a great way to engage your audience and build your brand. The best part is that there are tons of ways you can approach your poll. You can be serious and creative, you can make it personal or keep it all about business, whichever fits your brand the best.


7) Use the Emoji Slider
When you post something deserving of a reaction, add the Emoji slider.

According to IG, "By choosing an emoji for your question, you also add a layer of emotional context that helps those answering understand your tone and answer accordingly."

Pro Tip: you can add any emoji from your library to the slider by tapping +.
8) Create a Quiz

Use IG's quiz sticker to test your followers' knowledge about a fun topic, what you offer, or even an upcoming holiday (Be creative!). You can even gamify the way you do it by offering a prize or a drawing to those that get it right.


Back to You
Whether you use these ideas or the whole host of other ones, it's a good idea to explore all the things that Instagram Stories offers. You can expand your reach and engagement with a few great stories! Let us know which one you found the most helpful. And if you tag us, we will share your story too!