If you find yourself spending hours creating beautiful social media posts and laboring over writing the perfect captions only to be met with silence, you're not alone! Social media engagement is gaining likes, shares, click-throughs, comments, and saves on Facebook, Instagram, Twitter, LinkedIn, TikTok and Pinterest.

While gaining consistent traction on social media is something that eludes many businesses, individuals, writers and bloggers, we have some tips and ideas to help increase your visibility and your engagement.
So here are 8 ways to increase your engagement online:
1) Be Human
Many businesses make the mistake of not sounding like there is a person behind their public image or brand. This is a big mistake on social media. You have to treat people like they are real, live, PEOPLE whether you are online or offline.
Social media, blogging, vlogging: these are not sterile, boring, personality-less environments, your goal should be to interact with others. That means it's important that you show your personality when you are posting on social media.
Think about what you engage with online. What do you click 'like' on? What compels you to comment?
Do you comment on statuses or images about what is currently on sale?
Do you like hearing - again and again - about the latest special?
Are business hours or daily specials engaging to you?
Nope. We don't engage with that stuff… we scroll right past it.
There is nothing in that boring, sterile, business "stuff" to involve you, engage you, or inspire you.
So what is the fix?
Don't talk AT people. Talk TO people!
If your posts seem to be sitting out in the wasteland of the internet with little to no visibility or engagement, perhaps you should evaluate what type of engagement are you asking for? How is what you're posting relating to your followers on a personal, human level?
It might be time to adjust your mindset and what you are sharing.
Here are a few suggestions:
Motivate & offer some inspiration.
Offer behind-the-scenes sneak peaks at your latest project.
Ask a fun question.
Offer to answer questions.
And… do all the above without ever posting needing to be directly or indirectly about your business, what you have for sale or your current specials.
If you'd like more ideas for the questions you can ask, check out Building a Bombshell Social Media Presence with over 50+ thought starters and ideas for how to be human on social media.
2) Use Wit And Humor
People use social media to be entertained or sometimes to be distracted, they don't use social media to find out what businesses have for sale. That means that if most or all of your social media posts are focused on promotion and sales, your engagement will be nonexistent.
By inserting humor and wit into your social media posts, you can entertain your followers and get them actually looking for your posts, instead of scrolling past them.
Earlier I told you that you need to be human, and treat social media like it's SOCIAL. Well, smiles and laughter are also social. Did you know we laugh 30 times more when we are with others than alone? If you can get your social media followers to smile or laugh, you will be helping to create a sense of belonging and building connections with others!
How do you do this?
Come up with witty puns related to your industry. You can also accompany images with honest, relatable captions.
Taco Bell does a fantastic job of being human, engaging with their audience and infusing humor into their tweets.
They also find a way to tie their brand into what they put out, instead of just promoting their products. Their tone is casual and fun, and in tune with their audience of mainly young adults.
Another brand that does a great job is travel brand, Away. This brand decided to shift away from talking about boring features of their luggage and instead they focus on the experiences that a suitcase can enable.
3) Post Engaging Content


Yes, I know that seems like it would be naturally intuitive. But, how many things do you scroll past when you are on social media, because they are of no interest to you? While this tip might be a no-brainer, it's often forgotten.
When you're deciding what to post, make sure that it is high-quality, shareable content.
Content comes in all shapes, sizes, and topics. The best content is engaging, exciting and informative.
Before creating or sharing content, think about your audience, what would they like to hear from you? How can you tie your brand or business into a post that is fun and engaging?
Ask yourself if what you're about to post is something you'd want to see and share from another company.
One brand that does a great job of tying in their offerings to the desires of their customers is We Work. While they are a co-working space, they understand the desire to work with other people, or in an environment that is conducive to building relationships with other professionals.
4) Use Emojis
Did you know that your mind views emojis as similar to the human face? It does! Which is why using emojis, alone, can often increase your social media engagement dramatically!
Using emojis conveys playfulness, while the expression and the pop of color grabs the attention of your followers. Your followers are using emojis in their own text, email and social media conversations, in fact there are 6 billion emojis being used each day worldwide.
If you don't believe that simply adding an emoji to your captions can help increase engagement, there are a few studies that have been done, that prove it.
5) Share Value
Remember that social media is meant to be social, so don't make every post something to promote or buy or attend, you want to give value first and then give them a call to action. Ideally, not in the same post!
In his must-read-and-adhere-to book, Jab, Jab, Jab, Right Hook, Gary Vaynerchuk explains how your jabs are the value you are you giving to your followers. These should be more frequent. Jabs are designed to help, educate, engage and trigger an emotional connection with your followers.
A right hook is designed to offer, sell or be promotional.
So the general rule of thumb is that you have 4 "jabs" for every 1 "right hook."
A good rule of thumb is only one in four posts should ask for something or seek to sell a product or service.
Yes, this means that for every time you ask something, attendance, input, sales, you should have four value-focused, relationship-driven posts.
One great way to do this is by posting the tips you give in your blog or vlog.


6) Ask Questions That re Likely To Start Meaningful Conversation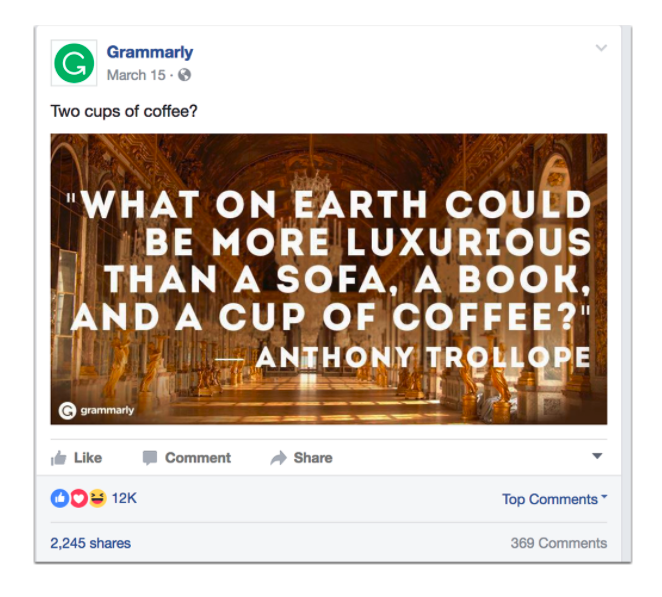 People are on social media to be social. If you ask a question that is fun, interesting or important to your followers, they will most likely answer it. Think about easy questions that your audience will enjoy answering.
Grammerly post a quote and asks "Two cups of coffee?" Their followers are most likely going to answer this question. As you can see, they get plenty of likes, shares and comments.
If you'd like a place to get started with questions you can ask your audience, check out our Engaging Questions Social Media Templates. Not only do we give you the templates, we provide thought-starters to help make it easy to create fun, creative, engaging question posts for your audience
7) Schedule Your Posts at the Right Time
Your followers aren't online or using social media all the time. If you happen to post something while most of your followers are inactive, you could potentially lose out on both visibility and engagement.
Find out when your followers are most likely to be online and then schedule your posts in those time slots.
The best times to post are different depending on your time zone and the demographics of your ideal audience. The most optimal times can also differ depending on the social media platforms you're using.
For example here are some times that were researched and studied by companies that specialize in finding this data for social media:
CoSchedule, did 16 studies that showed that Facebook posts tend to drive the most engagement between 1 PM and 4 PM on the weekends.
QuickSprout advises posting from noon all the way up to 6pm, but says to avoid weekends all together.
While Later says that Instagram users are most engaged throughout the week with the most activity happening at lunchtime (11am-1pm) and evenings (7-9pm).
8) Seek To Build Relationships
One thing that I tell our clients over and over again is to remember that as a company you should be focused on building amazing relationships with your followers and customers.
Relationships + credibility = power
Personal connection is where you can grow your business and your social media engagement. What do your customer and followers care about? How can you help them reach their goals? How can you encourage them?
The EveryGirl does a good job of supporting small businesses that are owned by their target market of female entrepreneurs.
Think about it:
The business and people you do business with create a pleasant overall experience for you.
You like to shop or do business with them because you actually like them. Maybe they even make you feel special!
The people that pay attention to your needs are the people you like to be around.
So start sincerely paying attention.
Offer support. Give encouragement. Engage with other people's content. Comment. Ask questions.
Bottom Line
If you start using these tips, consistently, I promise you will start to see engagement, visibility and your overall revenue go!
Which tip is your favorite? Which one was surprising for you? We'd love to hear what you think, share this blog on social media and tell us!